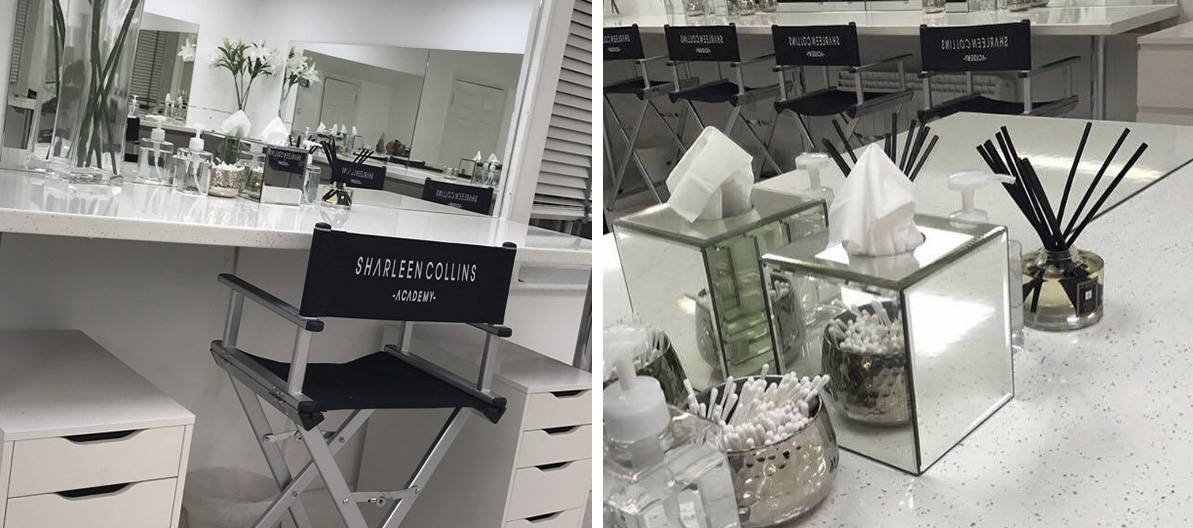 ITEC LEVEL 2 CERTIFICATE IN MAKEUP
Sharleen Collins Academy offers a detailed one day per week or two evenings per week makeup course for those looking to enter the makeup artistry industry.
Our ITEC level 2 certificate in makeup is internationally recognised worldwide Cert. It provides our students with practical and theoretical knowledge required in basic and advanced makeup techniques as well as invaluable work experience.
Course overview
An amazing course where you will learn everything you need to know to become a professional makeup artist in whichever field you choose. You will be training with the top makeup artists and lecturers in the industry, leaving the academy with an ITEC Level 2 certificate in makeup, which is internationally recognised, and an in-house Sharleen Collins Academy Diploma.
Each student will be monitored and feedback will be given throughout the course. Homework will be given every night and will be returned by the end of every week for your lecturer to review. Students will be training with Sharleen Collins along with professional lecturers. This course is intense with so much to offer. You will be leaving with a professional photoshoot from a top photographer in Dublin, net-working at business talks and given 100% support from the lecturers in the academy.
What you will study
Skin Care Analysing
Skin diseases and disorders
Contra indications
Tools of the trade
Kit essentials
Hygiene sterilisation
Daylook
Night look
Bridal look
Skin types, tones, textures, colours, coverages
Colour wheel
Face charts
Cosmetic science
Contour, highlighting and shading
Strobing
Blending of shadow
Cream shadows paint pots
Cream contour
Brow defination
False lashes strip and individual
Perfect lip liner – bold lips
Glitters
Smokey eye techniques
Glam look
Celeb inspired looks
Vintage look
Liner workshop
Cut crease
Backstage makeup
Selfie
High fashion – Blocking out Brows
Lightening effect
Body UV painting
Special effects
Professional photoshoot
Portfolio
Models
Please note each student will work on each other for class but for photoshoot they will need to bring their own model.
Course duration
3 Month Duration. Select your day and time preference from the options below.
Mondays: 12pm to 6pm
Tuesdays: 12pm to 6pm
Wednesdays: 12pm to 6pm
Thursdays: 12pm to 6pm
Fridays: 12pm to 6pm
Saturdays: 12pm to 6pm
Sundays: 12pm to 6pm
Monday & Tuesday Evenings: 6:30pm – 9:30pm
Wednesday & Thursday Evenings: 6:30pm to 9:30pm
Career Opportunities
For artists interested in pursuing a career in makeup there are so many opportunities for you
Freelance makeup artist
Bridal make up artist
Editorial
Shoots
Lecturing
Tv & film
Music video
Fashion shows
Working in store with top makeup brands
Makeup assistant
Skin care consultant in store
Celebrity makeup artist
Working with makeup agencies
And lots more
Equipment required
Full set of makeup brushes  (Academy gets discount with makeup Brush brands for you)
Hygiene / skin care kit
Professional make up kit (Academy gets discounts on makeup brands for your kit)
Note pad and pen
---
COURSE INVESTMENT
NB: There is NO ADDITIONAL COST once you pay for your course.  This includes your ITEC registration, exam fees and your photoshoot.
Pay in Full:  €3,197 (SAVE €300!)
Pay in Installments: €3,497
To secure your place, you must make a €500 deposit

Includes 
Exam fees

Professional photoshoot

Sharleen Collins professional brush set

Uniform

Sharleen Collins starter pack

No extra cost!